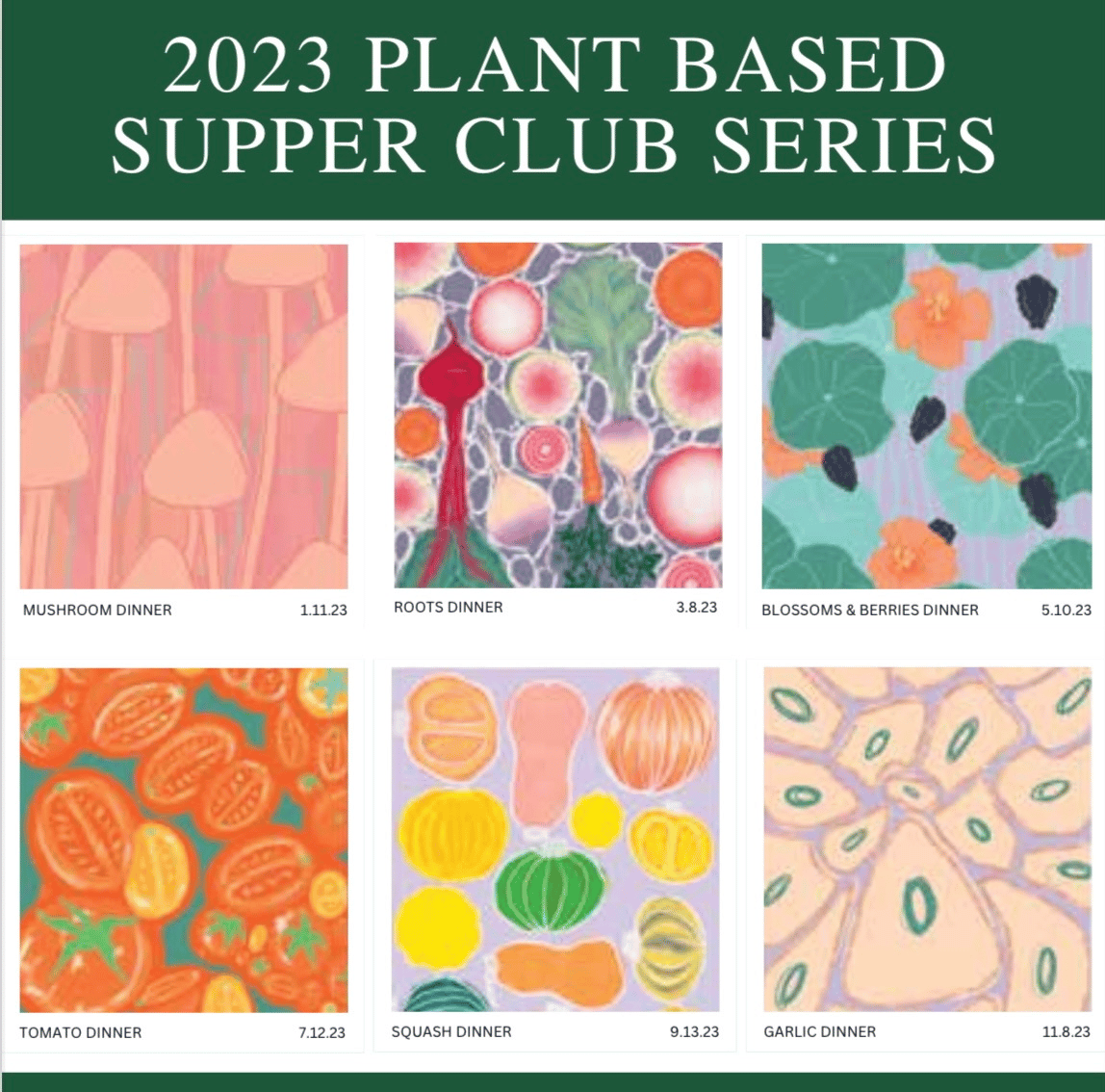 Topsoil Restaurant Plant Based Supper Club
Why You Should Attend Topsoil Restaurant's Plant Based Supper Club
Topsoil began as a pop up plant based supper club in 2018. The first supper club was held at Due South Coffee Roasters in October, 2018 and featured a farmer, a wine professional, a coffee professional and Chef Adam Cooke. The next couple of pop ups were in people's homes. The pop up dinners were outgrowing the venues. By January 2019, we had signed a lease and were on the way to opening Topsoil Restaurant at 13 S. Main Street in downtown Travelers Rest, SC. The monthly supper clubs continue and are a celebration of our origins and mission to connect our guests with the people who grow their food.
Whether you describe yourself as vegan, plant-based, plant-curious, or just a foodie in general, an event like Topsoil's Plant Based Supper Club is worth attending. Not only does it invite you to experience new restaurants in the area that are plant-forward but allows you to meet others who share your lifestyle and similar feelings towards food. The plant based supper club highlights fresh produce from the farm we source from at the restaurant.
The key to a successful vegan lifestyle is education and understanding of where your food comes from. This is great because it can show others that a plant based dining experience doesn't solely consist of a bunch of random vegetables and salads throughout the whole dinner service. It also shows that people who don't necessarily live a vegan lifestyle can enjoy a plant based menu while learning something new about the foods they consume. In 2023, we have decided to take the foodie experience to the next level and challenge our team with ingredient focused dinners. Check out our 2023 Plant Based Dinner series here.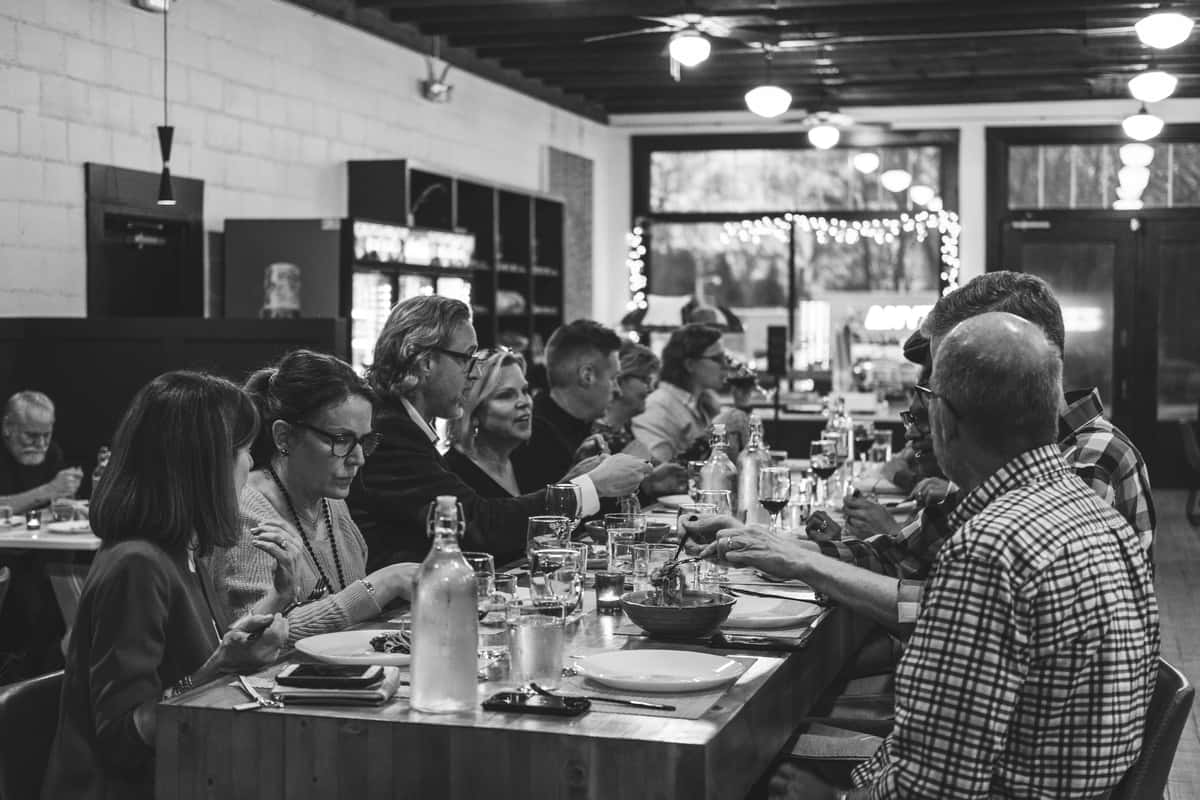 Plant Based Fine Dining
Eating out at restaurants while maintaining a vegan diet can be difficult but it doesn't have to be with Topsoil's Plant Based Supper Club. The second Wednesday of every other month, Chef Adam Cooke, 2020 James Beard Semi-finalist for Best Chef Southeast, features an array of menu items that are all plant based, such as pumpkin lemongrass cappuccino with chestnut, apple and sunchoke crema, lion's mane mushroom piccata and seared napa cabbage with sweet potato, miso braised daikon radish and wasabi arugula. The desserts will delight - pecan orange creamsicle with carrot jam and pecan brittle or the coconut carrot sticky toffee pudding.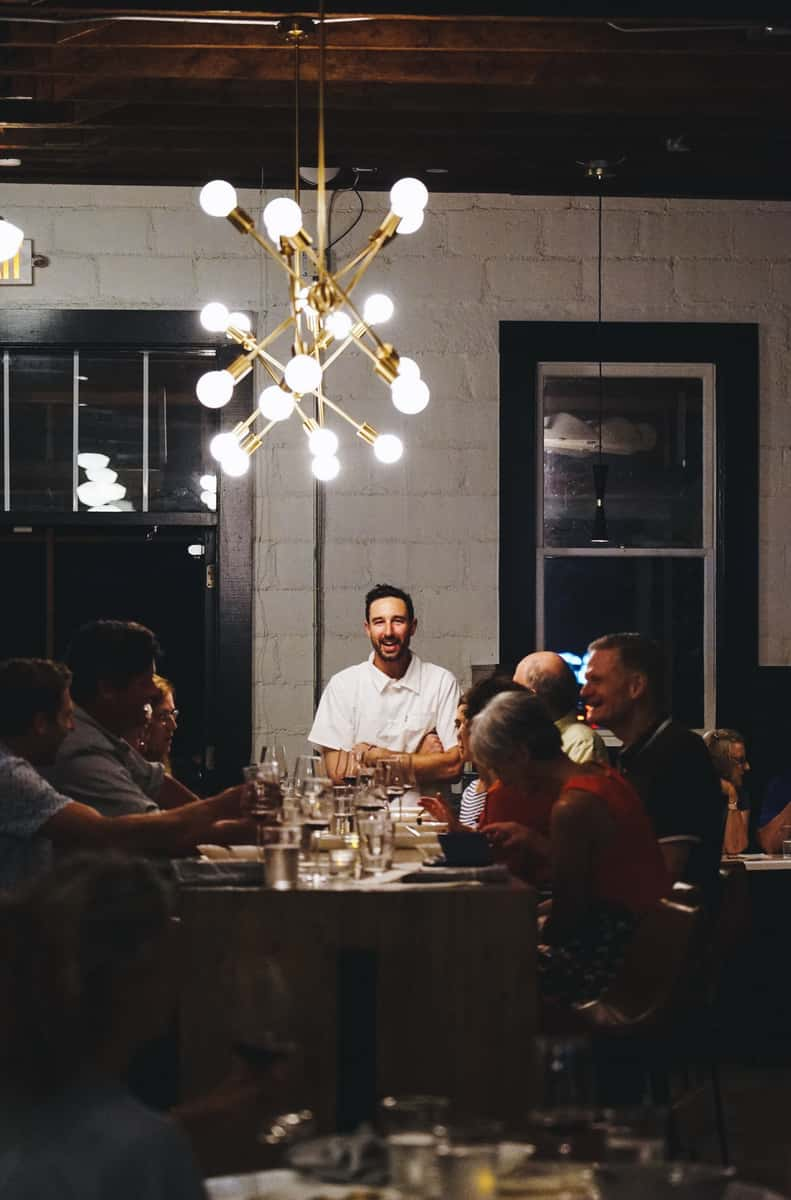 Plant Based Versus Vegan
We asked our friend, Beth Motley MD, Family Medicine & Lifestyle Medicine Physician at Prisma Health, to explain the difference between a plant-based versus vegan diet. Here is what she had to say:
"The term 'vegan' was created by an English animal rights advocate in the 1940's to describe a person who avoids using animals for ethical reasons. A vegan would avoid eating animal-based foods or using animal products in other ways, such as wearing leather goods. The term may also refer to the other ethical motivations to avoid animal products, e.g. for environmental reasons.
"Decades later, in the 1980s, physician and researcher T. Collin Campbell MD introduced the term "plant-based" to describe an eating style based in fruits, vegetables, whole grains and beans that focused on health and not ethics.
"Consuming whole plant-based foods contributes to longevity and helps to protect against cancer, heart disease and diabetes. With regards to diet, 'plant-based' is a more active term than ' vegan', describing what we do eat, rather than what we avoid. While an Oreo is 'vegan' it would not be considered 'plant-based' as it is far from a whole plant food."
Follow Dr. Beth's Food Is Medicine Greenville Facebook Group for like-minded topic discussions.
How it Works at Topsoil's Monthly Plant Based Supper Club Dinner
Topsoil holds the event on the second Wednesday of every other month. The restaurant provides a five course plant-based meal with optional wine pairings. In 2023 we are bringing a series of six ingredient focused dinners.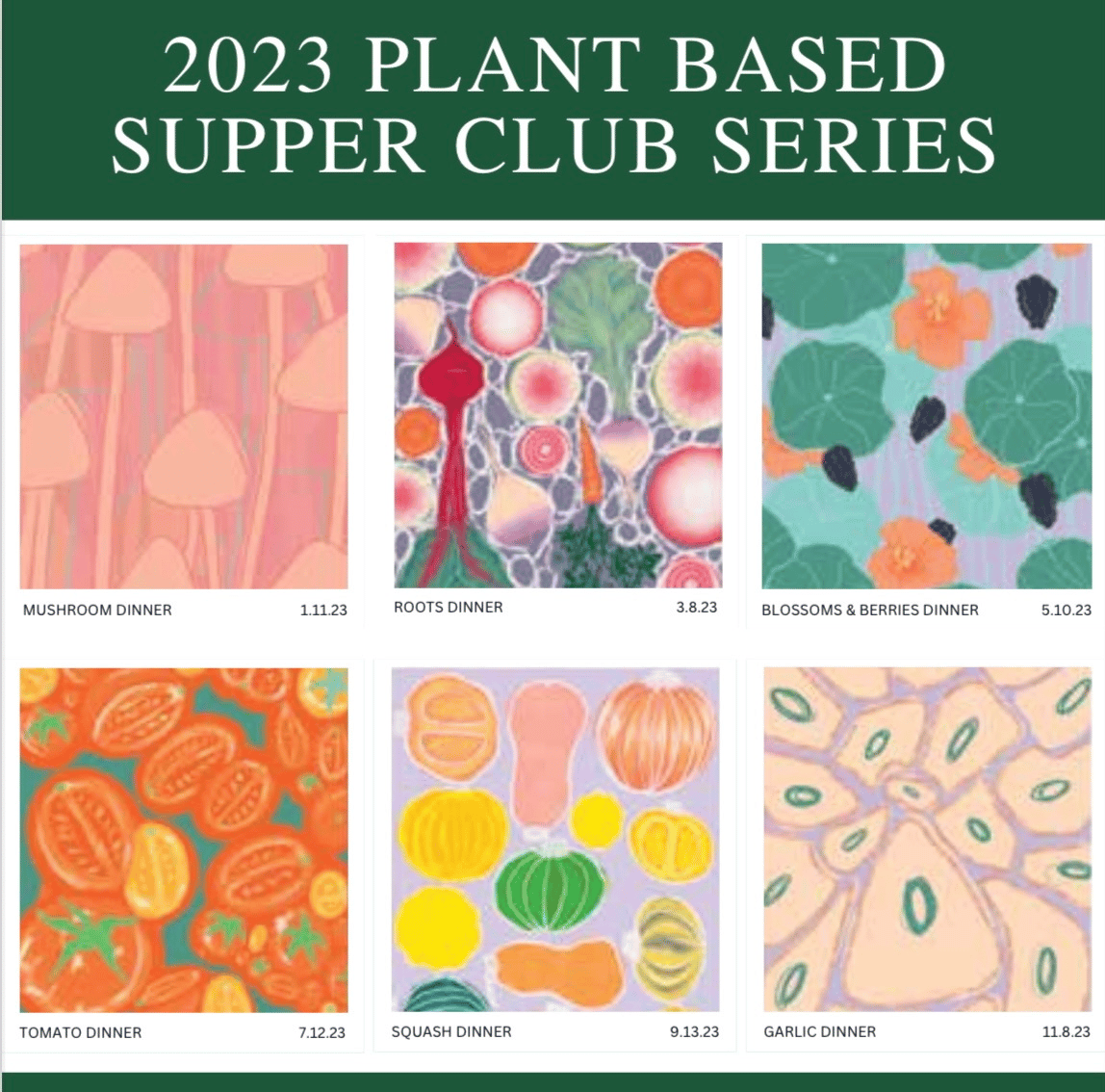 The event starts at 6:30 pm and goes until 9:00 pm. The cost of the event is $120 per person with wine pairing and $95 for those opting out of wine. Topsoil holds their Plant Based Supper Club at the restaurant on 13 S. Main Street in downtown Travelers Rest, SC.
2023 Plant Based Supper Club Series
The Mushroom Dinner - January 11 - SOLD OUT
The Roots Dinner - March 8
The Blossom and Berry Dinner - May 10
The Tomato Dinner - July 12
The Squash Dinner - September 13
The Garlic Dinner - November 8
Explore the series, click here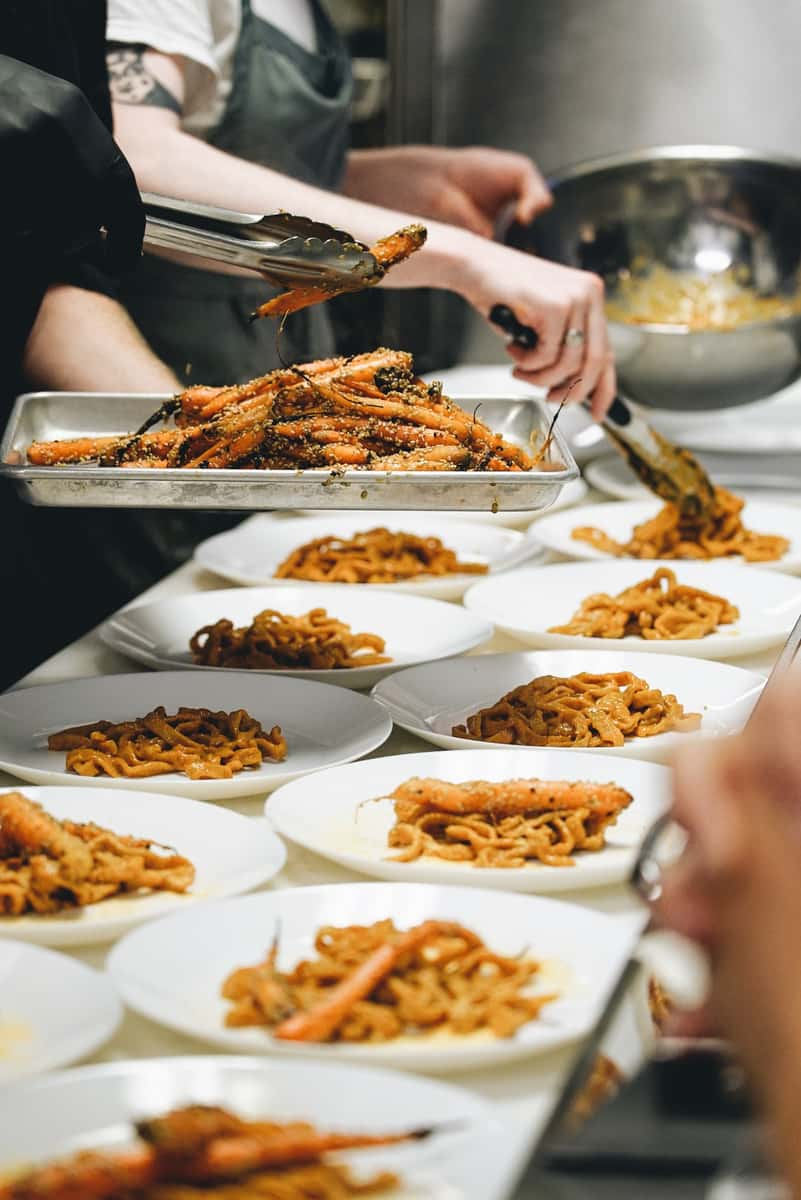 Featured Local Farmers
In 2022, the theme of our dinners was creating a dinner around ingredients from a featured local farm. We toured nine farms as a team and documented our visits here. For example, in February we visited Dark Spore Mushroom Company from Piedmont, SC.
They began with a simple idea in mind - to grow food for the local community. They started growing mushrooms in 2018 and everything they learned about mushrooms they have learned along the way. Mushrooms never cease to amaze them, and consistently show them that there is much more to learn! We look forward to hearing their story! Take a tour of their mushroom operation and see how they cultivate the mushrooms we serve in the restaurant in the video below.
Conclusion
A vegan lifestyle and plant-based eating look different to everyone. While veganism is a choice that goes beyond what you eat to also include how you live your life, a plant-based dietary lifestyle is more focused on the food itself. Incorporating locally grown ingredients and getting to know the farmers who grow your food is what makes this a truly authentic experience and grows our community while enjoying a beautifully created dinner! Gathering around local food and farmers is what creates memorable meals.
Topsoil Restaurant is a farm to table restaurant that has been in the Greenville, SC area since September, 2019. We are located on the Swamp Rabbit Trail and downtown Travelers Rest, SC and have convenient parking if you're biking or driving from downtown. They serve dinner Thursday - Sunday from 5-9pm and brunch Saturday & Sunday from 10-2 with several plant-based items on the menu.
The plant-based supper club is held on the second Wednesday of every month. Join us for an evening of celebrating locally grown food and the people who grow it. You will leave full and satisfied and maybe even blown away!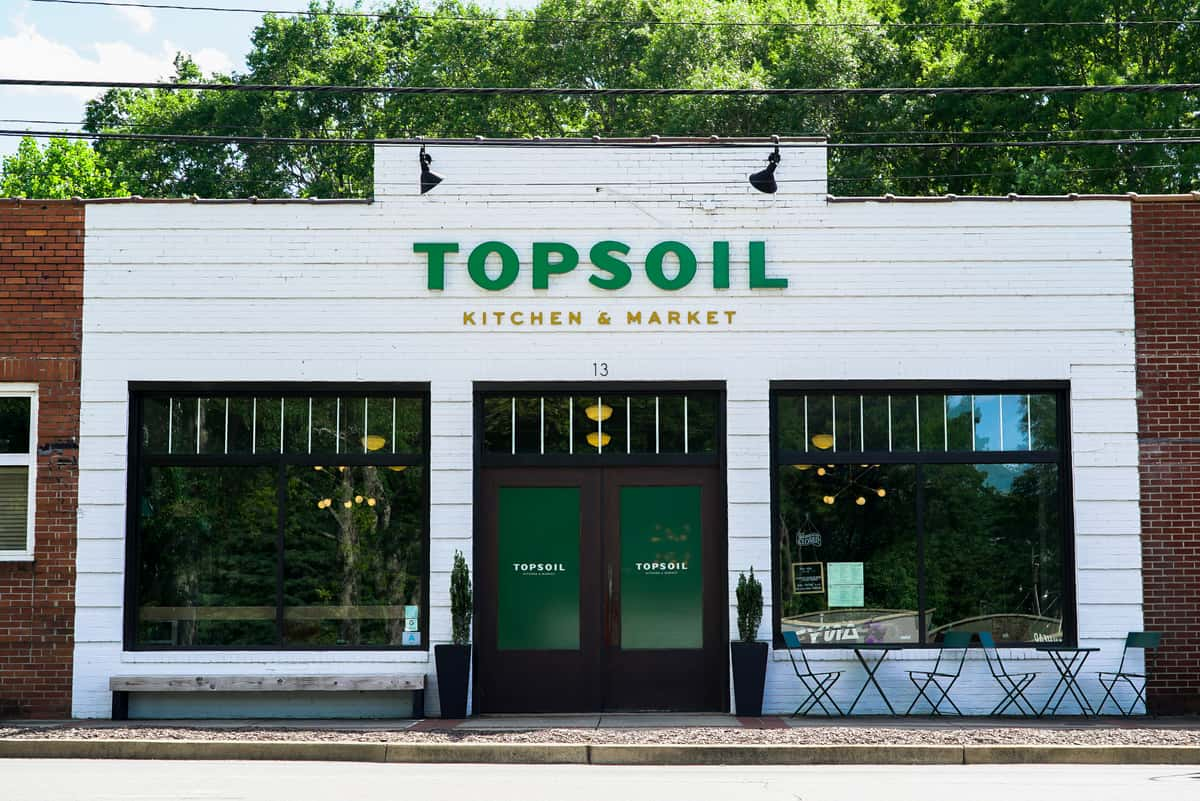 For a complete listing of our upcoming events and to purchase tickets visit https://www.topsoilrestaurant.com/events