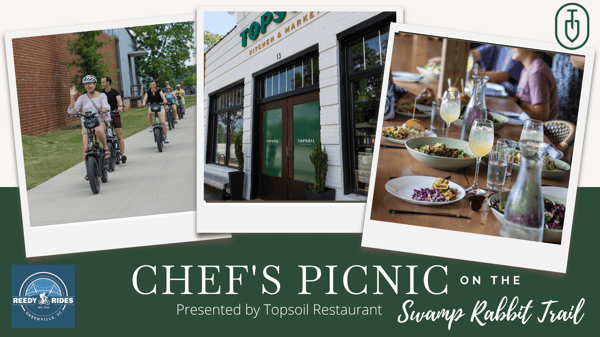 Foodie Fitness - Chef's Picnic Bike to Table Experience
Topsoil Restaurant presents The Chef's Picnic, a new curated dining experience that offers guests a memorable meal, worth the journey.

The Chef's Picnic experience begins as guests pedal with a guide from Reedy Rides in Downtown Greenville to Topsoil Restaurant in Travelers Rest (10 miles)on electric assist bikes, enjoying the sights and sounds of Greenville's multi-use greenway, the Swamp Rabbit Trail, along the way. 

Upon arriving at Topsoil, guests will delight in an elevated picnic spread, prepared by award winning Chef Adam Cooking using ingredients from Topsoil Restaurant's local farming partners. In fact, there's a good chance the guests will travel farther to get to Topsoil than their food did.

With Topsoil Restaurant overlooking the Swamp Rabbit Trail, creating an elevated culinary experience that incorporates a beautiful, scenic journey by bike is an exciting offering while visiting Greenville, SC. Tickets are limited so reserve your spot today!

Book Now